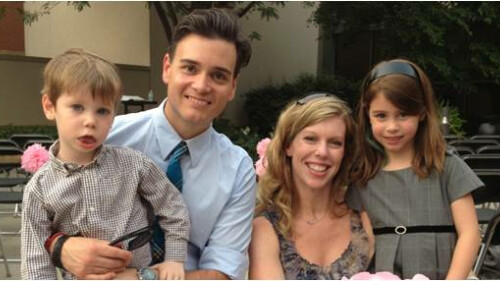 Rob Hockney
I've been a singer all my life. In the fourth grade, I was asked what I wanted to do when I got older, and I replied, "Sing." For a lot of years, that is really where I found my identity ... in the fact that I could sing; in me. I had great Christian parents, a great church, and a lot of support. But upon learning that I could never ultimately find wholeness in singing and playing guitar alone, I surrendered my life to Christ as a sophomore in college.
I majored in Music Education, and originally wanted to be a Sr. High choir director, but after meeting a couple of guys who loved the Lord and made great music together, my fire for writing and performing was rekindled. I graduated college and began touring the country with those two friends with our band THEPOOLBOYS. Later, my wife, whom I had met in school, also came on the road with us. We spent 6 years traveling full-time, but eventually felt the pull to find a place to settle. Omaha is Julie's hometown, so we left our surroundings, then in Nashville, TN, and headed back to the Midwest. We attended Brookside for 2 years before I began here; something that God fully orchestrated.
Being a Worship Pastor combines the very things that I know I was made to do: enjoy God, enjoy his Church, and enjoy music. I am grateful that I still write, play and instruct, but I am even more grateful that in all of those things I now recognize the beauty and blessing of a giving God.
In my spare time I like to play golf, travel, write and record music. My preferences in music are about as varied as God's creation, so I will refrain from any potentially lengthy lists.