Welcome to Brookside
Welcome to Brookside Church! We are glad you dropped by to check us out online. We hope to show God's love in such a way that people will exchange ordinary living for an extraordinary life through a personal relationship with God through faith in Jesus Christ.
Our Church doors are wide open to people of all backgrounds regardless of where they are on their spiritual journey. So whether you are a spiritual seeker who is just starting to ask questions about God and faith, or a committed Christian who wants to sink the roots of your faith even deeper, you can find a home here at Brookside. Read more.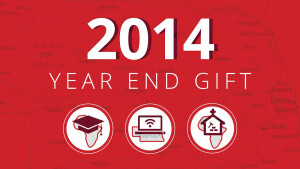 Make a difference this Christmas.
Please consider donating to the Year End Gift and make a difference by empowering others this Christmas. Your donation will go toward 3 main projects. One third of every dollar will go toward educating orphans, "My Brookside" software and check-in kiosks and seed money for a construction fund for our partner church in Zambia. Read more here.