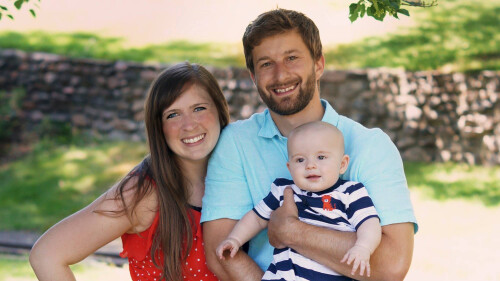 Jack Archer
I grew up here in Omaha with a family that never went to church or talked about God. I spent my first 17 years of life trying to find fulfillment in all sorts of things. I thought I was my own god. I sought satisfaction in anything I could, but everything ultimately left me empty. As a junior in high school, I was repeatedly invited to Brookside by a friend, and because of his perseverance, I reluctantly agreed. I came as a hard-hearted skeptic, but 9 months later I trusted in the Gospel and surrendered my life to my Savior, Jesus Christ. I began to see God's purpose for my life and I wanted to live to bring glory to Him.
After graduating from Millard South High School, I got involved with Brookside's youth ministry as a volunteer, and then as an intern. My growing involvement with the students motivated me to attend Grace University, where I graduated with degrees in Christian Ministry and Biblical Studies.
My greatest desire in youth ministry is to see students experience life-transformation by the power of the Gospel, and then to become disciple-makers among their friends and at their schools. I also want students to see that Christianity is not just another religious system in the world, but that Jesus Christ is the only way to know God. I'm driven to share a faith with students that I wish I had earlier in life.
At Brookside, I've also had the opportunity to be very involved with our missions work in Zambia, Africa. I stayed in Serenje, Zambia for 3 months during the building of the Hope Center and have returned twice on short term trips.
Being able to participate in the orphan and pastor training ministries there has had a huge impact on my life, and my heart will always be with my friends in Zambia.
In my spare time, I love doing anything active and being outside, reading thought-provoking books (such as Dallas Willard's "Renovation of the Heart"), or just simply enjoying community with others.
For me, few things are better than having a great conversation with a friend. I seek to live every day humbly led by Jesus and bringing glory to His name.