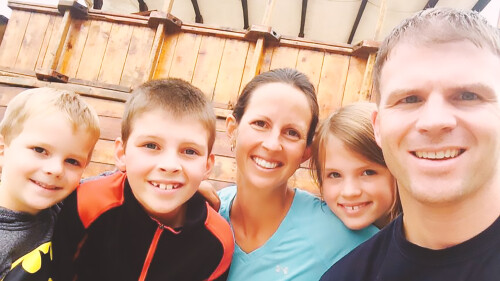 Jeff Dart
I was born and raised in Waterloo, Iowa. My parents were faithful in bringing me and my brother up to attend church and know the things of God. I attended Iowa State University and received a degree in education. During that time, I was asked by a guy who would later become a dear friend some hard questions about the faith that I professed. It was then that it became clear that I had been religious at times in my past but I lacked a personal relationship with Jesus Christ. Months later I surrendered my life to Christ.
At Iowa State, I was exposed to a college ministry called The Salt Company. I was blessed to spend a lot of time with the leaders of this ministry, and during those college years my faith rapidly grew. My gratitude for God's grace during those years goes beyond words. I became an intern in Youth Ministry which later led me to pursue working full-time in Brookside Church's Jr. High Ministry in 2001.
I met my wife, Christina, while attending the college ministry at ISU. I remember taking strategic routes to my classes on ISU's campus in order for us to cross paths … it worked! We were married in Ames, Iowa, in January of 2002. Christina has been a huge blessing not only to my personal life and our children but she has been a leader in the ministry as well. Our three children, Aiden, Ashlyn and Easton, keep us busy and bring us much joy.
I completed my Master's Degree from Liberty Theological Seminary. My favorite books to read deal with leadership. My heart for the local church continues to grow as I see it as the beacon of hope for our city and the world. I love being on the water, riding motorcycles, and hanging out with my family.