Keep Your Mouth Shut
And The Welcome Mat Out
Tuesday Nights / 6:30pm - 8:00pm
September 20 - November 1 (7 weeks)
Room #221 / Millard Campus
If you're a parent (married or single) of adult children - do any of these questions resonate?
My child's choices are breaking my heart--where did I go wrong?
Is it OK to give advice to my grown child? ...I don't want them to make the same mistakes I did!

What's the difference between enabling and helping?

What boundaries should I have if my child moves back home? uugh. Can anyone say "boomerang"?

What do I do when my child doesn't seem to be maturing into adulthood?

How do I relate to my grown child's significant other?

What does it mean to have healthy financial boundaries?

How can I support my grown children when I don't support their values?

What do I say and do when they've left the faith that they were raised in?
Are you struggling to connect with your child now that they've left the nest? We get it. You feel this tension and heartache as your relationship dynamic changes. And yet, you know that parenting doesn't stop when they turn eighteen, get married, start careers and have an adult life of their own. In many ways, your relationship gets even more complicated--your heart and your head are as involved as ever, but you can feel things shifting, whether your child lives under your roof or you're lucky to get a text once a month.
In his book, Doing Life with Your Adult Children, parenting expert Jim Burns helps you navigate the toughest and the most rewarding parts of parenting your grown kids. Speaking from his own personal and professional experience, Burns offers practical answers to questions about like the ones above.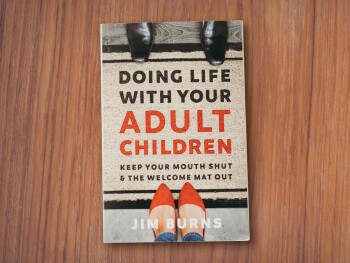 Our Tuesday night group will be a video, then table discussion format. Video session titles:
Session 1: You're Fired (so be quiet)
Session 2: Keep Learning
Session 3: From Linger To Launch
Session 4: Differing Values
Session 5: Money, Money, Money
Session 6: The Other Relationship
Session 7: Now What?
Doing Life With Adult Children will be led by Chuck and Lorinda Cantoya,
who have four adult sons, two daughters-in-laws, two single adult sons and five grandchildren.
Added bonus: they are a re-married couple who navigate adult children while addressing
the challenges of step families. It ain't easy!