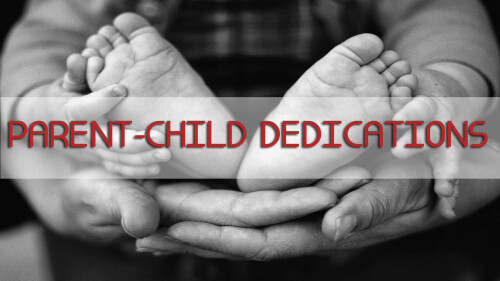 Parent-Child Dedications
Overview
At Brookside, we're all about helping people find and follow Jesus. This important mission applies to all of our relationships - including our relationships at home, with our families. The parent-child relationship can be a God-provided means for dads and moms to be helping their kids "find and follow Jesus."
We want to be a church that creates a legacy of Christlikeness - so that parents are thinking about building a love for God and others into their children, grandparents are involved in the spiritual nurture of their grandchildren, and so on.
With this in mind, Parent-Child Dedications at Brookside provide a way we as a church family can:
Celebrate the birth of your child

Stand alongside you as you commit to raising your child in a way that honors Jesus

Agree to partner with you as you create or continue a legacy of godliness in your family
Important things to know about
You'll find upcoming dedication dates and our registration page in the sidebar on the right side of this page.
Our parent-child dedications are a meaningful part of our Sunday morning worship service. By having these dedications as a part of our gathered worship, this gives our whole church family the chance to celebrate with you, and participate in your commitment to model Christlikeness and raise your kid(s) in a way that honors Jesus. We encourage you to invite family, friends, Community Group members, and neighbors (and anyone else) to the service when your child will be dedicated so they can join you on this important day!
There will be a brief meeting on a Sunday, prior to the dedication Sunday, to discuss the meaning and significance of Parent/Child Dedications. (Please make sure you get this date on your calendar.) This meeting typically lasts about 20 minutes. Pastor Brad or Pastor Tim will walk you through the morning itinerary and answer any questions you might have. After you register, you will receive an email confirming the availability of your selected dedication date. Questions? Please contact Peggy King at