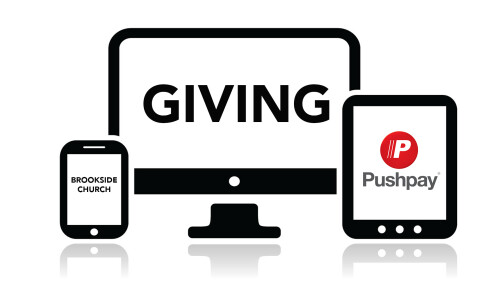 Giving - Start Here
Thanks for your interest in supporting the ministries of Brookside Church. Your financial support enables us to reach people with the love of God in this building, in this city and around the world.
There are several ways to give to the ministry of Brookside Church. You may contribute donations on Sunday during a worship service, mail in checks to the church office, or use the electronic payment feature from your own bank's website or last set up a recurring gift.
---
Pushpay
Pushpay allows for simple giving through a variety of ways, including mobile and online. To set up a recurring gift or make a one-time gift, do one of the following:
---
Your Bank's Website
Most Banks now offer electronic checks (one time or automatically repeated). If you would like to give through this method, simply visit your account on your bank's website. Look for "bill-pay" or something similar. Then you will need to start a new recipient. Load the information as prompted: Brookside Church, 11607 M Circle, Omaha, NE 68137, 402-895-1484. Then decide whether this is a one time check or a repeated check.