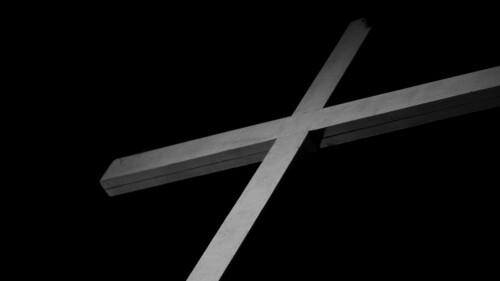 How to Find God
At Brookside, we believe that God is at work in the world, and in our lives personally.
The Bible says that God created the world, but that humanity turned away from God's design and chose their own path - this is when sin entered the world. Our choice to sin severed our relationship with God, and we still see ways sin and its consequences play out in our lives individually and also in the world.
Nevertheless, God chose to pursue his broken creation and demonstrate His redeeming love. We see His tremendous love for us most fully in the life, death, and resurrection of His Son, Jesus Christ (check it out in John 3:16). Jesus' sacrifice for us offers anyone the chance to be reconciled to God and have eternal life – glimpsing true life now that will carry on into eternity.
In Ephesians 2:8-9, God's Word says that we are "saved by grace through faith, not by works." We receive the grace God showed to us in Jesus Christ through faith – trusting in what Jesus has already done for us rather than striving to achieve God's favor through our own efforts. Then, out of gratitude for all Christ has done for us, our lives progressively change, but the journey will certainly include ups and downs. Over time, the new life Christ has given us to will show up in transformed lives – lives that are more like Jesus.
This story of what God has done for us in Jesus is what we're all about at Brookside. You'll hear this proclaimed at our worship services and talked about in personal conversations. We invite you to join us anytime if you're still considering and exploring what this means.
If you're ready to place your faith in Jesus now, you can do so by praying a simple prayer. This prayer doesn't contain any "magic words" that have to be said a certain way; rather, it's simply a good way to express what's authentically going on in your heart. You could pray something like this:
"Dear God, I know that I'm not worthy to be accepted by you. Because of my sin, I am guilty of rebelling against you and ignoring you. I need forgiveness. Thank you for sending your Son Jesus to die for me, so that I may be forgiven. I trust His work for me on the cross and place my faith in Him. Thank you that He rose from the dead to give me new life. Please forgive me and change me, that I may live with Jesus as my Savior and Lord. Amen."
If you prayed this prayer and it echoes the condition of your heart, CONGRATULATIONS! Share your new decision with a Christian friend, start attending church, and begin reading the Bible (the gospel of Mark is a great place to start).
Click here for an online visual aid that can help you understand more about how you can have a right relationship with God. If you have recently made the decision to trust in and follow Jesus, we want to know! Please tell a Christian friend or contact Pastor Tim Wiebe at Brookside about the commitment you've made.
If you have other questions you'd like to discuss to help you better understand Christianity, we encourage you to continue exploring these questions. If you'd like to talk with a pastor about any of these questions, please contact Tim Wiebe.