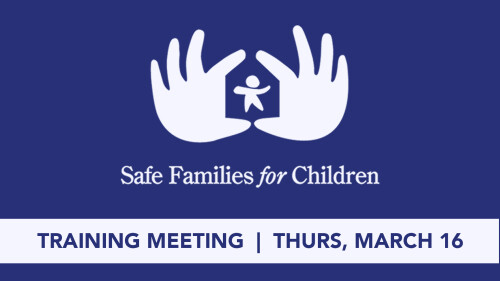 Safe Families for Children
SAFE FAMILIES TRAINING
Thursday, March 16 | 6-9:30pm
---
We need your help to build a network of Brookside Church volunteers who can support families in our community that are in crisis. Parents who find themselves homeless, unemployed, hospitalized, in need of rehabilitation, etc. will be able to voluntarily place their children with a trained Host Family while they receive the help they need. Family Friends will walk alongside the struggling parents in order to encourage them and expedite the reunification process with their kids. If you are excited about the Safe Families ministry but do not know how to get involved, check out the list below or contact Mark Thengvall at 402-415-5722 or . All of the roles listed are volunteer positions and require varying degrees of commitment and training.

Host Homes for Children
Host Family: agrees to take-in one or more children for temporary placement while families get back on their feet with an average length of stay being about 45 days. They have a two-fold ministry of caring for children and fostering an ongoing relationship with the parents, becoming a spiritual extended family to offer support when necessary. Host families may specify age of children they are able to accept, length of stay or "blackout dates" when they are unavailable.
Secondary Host Family: agrees to provide overnight respite care for the primary host family. Must be approved by a Home Screening Specialist and can offer short-term, overnight baby-sitting services to Host Families.
Family Support
Family Friend: provides friendship, encouragement and support to Placing Parents who are in crisis. If we have enough volunteers, we will also offer Family Friends to parents who are struggling but do not need child hosting services.
Crisis Hotline Call Screener: receives the first call from parents in crisis or agency workers and seeks to understand their situation and needs. Refers appropriate calls to the Intake Coordinate and enters data into the database.
Family Coach: facilitates the relationship between the parent and Host Family during a hosting arrangement. Their primary focus is ensuring the well-being of the child(ren) while coordinating communications between the Host Family, the placing family and any agency workers. Additional training is required for this role.
Home Screening Specialist: certifies new Host and Respite Families under the supervision of the Safe Families team. Some experience is required.
Hospitality
Meal Team Coordinator: works with volunteers on the meal team to provide meals to a host family when they receive a child placed in their home.
Meal Team Volunteer: is a part of a team who provide meals to host families when they receive a child-guest in their home.
Resources
Resource Friend: assists Host Families by sharing their skills or physical resources. Resource friends are Counselors, Dentists, Doctors, Educators, Lawyers, Mechanics or those able to share material goods such as supplies, furnishings or other services such as babysitting.
Financial Planning: helping parents in need move toward economic self-sufficiency through assisting with developing a budget, money management, setting up bank/checking account.
Job Search/Resume Skills: assists parents in finding work or job training.
Housing/Household Management Assistance: helps families locate housing or temporary shelter. Assists parents to managing their household. Assist with keeping home safe (childproofing, repairing, organizing and cleaning). Help families get setup in home (moving assistance, painting, etc.)
Transportation Assistance: assists host families or families in need with transportation. Assist families with bus tokens. Assist families in the purchase of a vehicle.
Administrative
Volunteer Coordinator: Recruit, interview and screen potential SFFC volunteers, assist with initial and on-going training of volunteers, plan volunteer recognition, promote community awareness of SFFC as a part of volunteer recruitment.
Recruitment Specialist: Assist with recruiting host families, family friends and other volunteers.
Web/Media Coordinator: Web and Social Media management, content updates, photos, stories.
Graphics/Marketing: Creation of marketing materials for Safe Families Omaha, brochures, signs, content for web, etc.
Story Gatherer: talk with Family Coaches and Host Families to make note of the stories of the children and families who have been impacted.
Story Teller: to create short, powerful, inspirational articles for newsletter, prayer updates, website, Facebook page, etc.