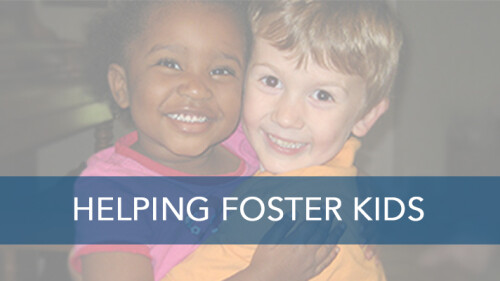 Foster & Orphans Ministry
The Foster & Orphan Care Ministry is a collection of various ministries and opportunities that share one goal - caring for orphans and foster kids. Brookside's Community Impact Ministry wants to fan into flame this emphasis by championing the value and offering opportunities to get involved. There is something you can do to make a difference, whether it is becoming a foster or adoptive parent or just volunteering for a one-time project. Review the ideas below:
Royal Family Kids & TRAC Camps
Brookside is a sponsor church of these weekend or one week volunteer camps. They help give foster kids an experience they remember all year. Click here to read more and to apply.
Adoption/Foster Care Seminar
Brookside offers a free seminar for those who are just beginning to consider the idea of adoption or foster care. These are offered twice a year. Click on the button on the right to register for September 26.

Hope Center Go Teams Trip
Show love in a tangible way to an orphan by participating in a Go Teams trip to the Hope Center in Zambia. We take teams once or twice a year. To read more about the next trip, and apply online, click here.
Back To School Program
Give to the Back To School Program so an orphan at the Hope Center in Zambia can go to school. Simply write "back to school" in the memo line of your check.
Serve An Adoptive Or Foster Family
Be creative. Make meals. Offer prayer. Email and ask for the free brochure on serving adoptive and foster families.
Investigate Resources
Get a free 30-page pamphlet that gives more information about adopting by emailing . For extensive reading, visit Christian Alliance For Orphans.
Other websites we recommend:
One-to-One Mentors
Do you feel like you would want a mentor to help you think through the issues of foster care or adoption? Community Impact can link you to a Brookside family that has already been down that road and can answer questions. Are you willing to becoming a mentor to someone else. Email .
Respite Foster Care
Respite care families open their home to a foster child (who already has foster parents) for a day or weekend when the need arises from the child's family. Email and we will put you in touch with someone who can answer your questions.
Mentor A Foster Child
Become a mentor to a foster child (for those who have already served at RFKC/TRAC). Email to learn more.
Adoption & Foster Care Agencies
There are many good foster care and adoption agencies. The adoption agency we have worked with most is Bethany Christian Services. Click here to visit their website. The Foster Care Agency we have a relationship with is Christian Heritage. Read more by visiting their website.
Adoption Gift Bags
Community Impact wants to help celebrate each child who is adopted by a Brookside family. Every time an adoption is complete we will deliver a gift bag to the family. If you have an adoption that has been finalized, please contact us so we can congratulate you! If you would like to help volunteer to deliver gift bags to these families, let us know. Simply email us at .