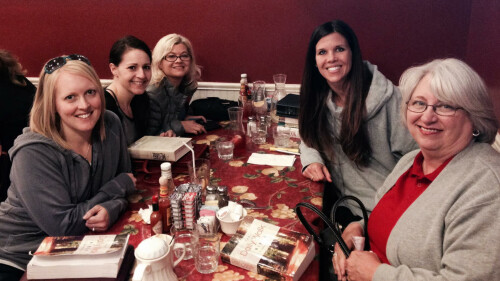 Women's Community Groups
Step into Community
Because we believe that spiritual growth happens in the context of healthy relationships, groups are available for you to join on most every day of the week. You may join a group to study the Bible or you may join a group to meet some new people, in Women's Community Groups you'll do both.
Groups consist of eight to ten women that meet regularly in a group member's home, coffee shops, or Tuesday mornings on-site with childcare. Here are your options:
Off-site groups: daytime and evening
Kirstin Ricketts
Monday Evenings 8-9:30pm near Village Pointe
20's-30's. For women whose days are full. Press pause, connect, seek and grow together.
(no childcare available)
On-site groups:

Lorinda Cantoya & Sandi Ellenberger
Sundays 10:45am (2 times per month) at Brookside
Single moms who want to grow in their dependence on God. Study this semester is on parenting.
(childcare: Brookside Kids Sunday Morning programming)
Carey Wilcox & Cindy Jones
Tuesday Mornings at Brookside
20's-40's, but any age welcome to grow in knowledge of God and follow Him. Study together with authenticity and humor. "Steadfast Love" by Lauren Chandler.
(limited childcare available)
Carol Taylor
Tuesday Mornings at Brookside
Empty nesters, but any age is welcome. "He Speaks to Me: Preparing to Hear from God" by Priscilla Shirer.
(limited childcare available)
Christina Dart
Wednesday Mornings at Brookside
30's. Intentional study of the Bible. Leadership development.
(childcare currently full)
Interested in joining one of the Women's Groups listed above? Fill out this form and we will get you connected!
The Mama Bunch
Tuesday mornings l 9:30-11:30 a.m. l Childcare available
Tuesday evenings l 7:00-9:00 p.m. l NO Childcare available
For expectant mamas to those with children through the preschool years.

For more information, click here.