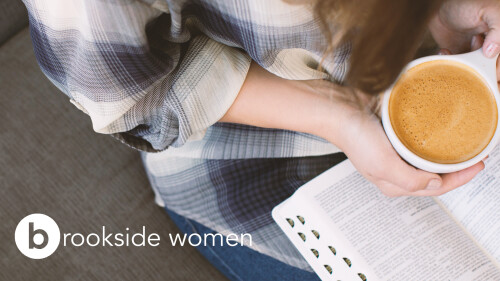 Brookside Women
Brookside Women
We want to make it easy for all Brookside Women to find and follow Jesus. Connect with other moms at The Mama Bunch or our single mom's Community Group. Serve locally with our Community Impact teams or focus on global impact by joining one of our Go Teams. Grow in your relationship with Jesus while studying the Bible and building friendships with other women in a Community Group. Attend and invite others to one of our Women's events. Find your place at Brookside. We are glad you are here!
Community Groups
Because we believe that spiritual growth happens in the context of healthy relationships, groups are available for you to join on most every day of the week. You may join a group to study the Bible or you may join a group to meet some new people, in Women's Community Groups you'll do both. Groups consist of eight to ten women that meet regularly in a group member's home, coffee shops, or Tuesday mornings on-site with childcare.


The best way to find a group will be to attend our next GroupLink event on January 21, 2018. It will be held after both services in the Upper Lobby.
THE MAMA BUNCH

Tuesday mornings & Evenings

8 weeks in the Fall and Spring

For expectant mamas to those with children through the preschool years.

For more information, click here.
---
IF:Brookside - February 9-10, 2018
What IF we followed God with perseverance instead of insecurity? At IF:Gathering 2018, we will look at one of Paul's letters to Timothy as he reminded him of the power and responsibility of sharing the gospel. We want to give God away in the very places He's put us, so we're going to gather for the purpose of remembering why following God and making disciples matters. We all get tired, we all wonder if what we're doing matters, so IF:Gathering 2018 will be the reminder--it will be the celebration. The work we're doing to share the gospel on the earth is worth it and God DOES move through the little things that nobody sees. Join us!
IF:Brookside will be hosted on site at Brookside Church in Omaha, NE. We'll be gathering, equipping, and unleashing all generations of women at Brookside, uniting them to live lives worthy of their calling, and inspiring them to make disciples in their spaces. For more information and to register, click HERE.
Women's Spring Gathering
Save the date! Our spring women's event will be held on Tuesday, April 24, 2018. More details will be coming soon!